Preparing the launch of a new campain.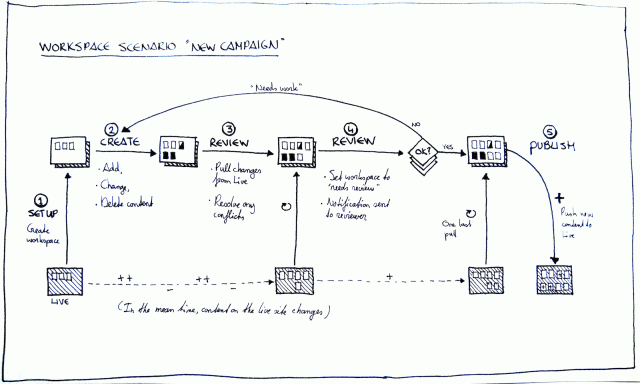 An example of how to use content workspaces to prepare multiple content items that you want to publish.
Say you want to launch a new campaign (product launch, a sales promotion, a fundraising drive). This means creating new content, updating existing items to link to that new content and maybe archiving some elements of a previous campaign as well. With content workspaces you can create, review, test all these changes on a copy of the live site. When everything is in place and ready to go live, these changes can be published to the live site and you've launched your campaign.
Setup: create a workspace
Create (add, change, archive, delete) content as needed
Review your work. While working inside your workspace, the content on the live site will likely have changed. Blog posts were added, products were updated, typos got fixed, etc. So, you can import ("pull") these changes into your workspace. Maybe these changes interfere with your own work. Now is the time to fix those conflicts.
Happy with your work you set the workspace to "needs review". This sends a notification to your team lead or editor who reviews your work as well. If it needs works till, she can set it back to "needs work" which means you're back at step 2 to make the necessary changes.
All is well and ready to be published. First a final "pull" of any changes from the live site to make sure there are no conflicts, then the actual publishing of all the new items and changes you prepared in the workspace get "pushed" to the live site.